January 7, – January 11, 2019              
From the desk of Ms. Costanzo:  
–
Friday, 1/11- Assembly @ 1:50 in the Church. Awards will be distributed.  
–
Open House will take place on Wednesday evening on Wednesday, 1/16. If you know anyone looking for a school for their children, please tell them about our school and our open house.  
–
Please send in nonperishable foods for Chapel. We are collecting breakfast foods this month but, you may send in any items you wish.  Anything will be appreciated.  Thank you and God Bless.
–
The fourth grade will conduct Chapel on Wednesday, 1/30.  Hope you can join us. We will begin at 8:40.  
–
A new student has joined our fourth grade family. Her name is Ariel and we all welcomed her with open arms.  I think she fitted right in as soon as she entered our room.  I love my class. They are warm and caring individuals.        
-Stay informed by viewing my weekly Blog and Homework assignments on our website.  astorialutheranschool.com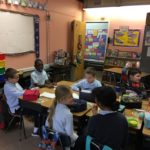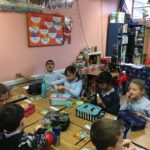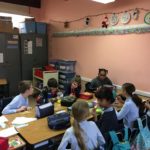 We welcome a new fourth grader, Ariel. We are so happy that she has joined our family.
Ms. Costanzo         Lessons for -1/7-1/11,2019                       Week 18
  Reminders:
** Students are expected to be on time for class. Our first period begins at 8:30.
*** Students may wear Gym clothes and sneakers on gym and yoga days only, (Mondays and Wednesdays)  They must be in full uniform all other days.  
**** Music classes and choir classes are on Wednesdays, please remind your child to bring their recorder and song book to school.                            
8:20-8:30–                                                                                                                                                                      4thgrade Homeroom–  Attendance, Pledge and Devotions.
–
Vocabulary
-Unit 8, Spelling Test, Thursday
4th-  Math- OA.3. –  (8:30-9:10)
Monday- Problem solving with 2-digit multiplication, pg. 126
HW- wk sheet, 61-62 (Due Wednesday)
Tuesday- pgs. 128-129
HW-  Complete pgs.61-62, review multiplication, Test next Tuesday on Chapter 3  
Wednesday- Go over HW. Do pg. 130, Hand in  
HW-  Wk sheet pgs. 63-64, Due Friday  
Thursday-  On own do pg. 131
HW- Complete pgs. 63-64, due tomorrow Test Tuesday
Friday- Go over HW, Review for Test Tuesday.  
6– Math– NS.8-  (9:10-9:50)
Monday- pgs. 137-138, go over
HW- Wk book, (skinny) pgs. 67-68, Due Wednesday
Tuesday- Chapter review, pgs. 139-140, Quiz Friday
HW- Complete wk pgs. 67-68, review lesson  – Quiz Friday  Chapter 3  
Wednesday- Collect HW.  Go over 139-140    
HW-  Text pgs. 141-142
Thursday-  Go over HW, Review for Quiz  
HW- Go over pgs. 139-142 and notes, Quiz tomorrow – Chapter 3  
Friday- Chapter 3 Quiz, NS.8  
7- Science-   (9:50-10:30)
Monday-  The digestive system – Read chapter 3 lesson 3
HW- Quiz tomorrow Chapter 3-3, complete reading 
Tuesday- Vocabulary Quiz-1) digestion  2) enzyme  3) mucus  4) absorption  5) epiglottis  6) peristalsis  7) saliva  8) esophagus  9) stomach  
HW-  Complete questions if needed  
Thursday-Collect questions,  Discuss your health. How is your weight for your age and height?  
HW- What changes in your eating habits would you like to improve?  How will you achieve your goal?  
Friday-  Discuss health habits and hygiene
8- Science – (10:30-11:10)
Monday- Review the rock cycle, pgs. 94-118- Test Thursday.  
HW- Review each type of rock in the rock cycle and how they are formed.  Test Thursday. Essay exam  
Tuesday- Review for test. What you will need to know.  1) What is the Rock Cycle?  2) describe each- Igneous rocks  – sedimentary rocks  – metamorphic rocks     3) Although the rock cycle is a cycle it does have a beginning.  Where does the Rock Cycle begin?  
HW-  Complete and review questions. Test tomorrow.    
Thursday- Test,  Classifying Rocks and the Rock cycle, pgs. 94-118  
HW- none  
Friday- Changes in Earth, pgs. 124-154- Video- (2-days)    
4- Religion –  (11:10-11:50)
Monday- Bible reading, Luke's gospel  – January 30, 4th grade Chapel- Go through service
HW- Review your part
Tuesday- Listen to songs for Chapel service  
HW-  Review parts  
Wednesday-  Chapel @ 8:40 – All are Welcome
Thursday-  Rehearse songs
Friday- Making invitations for family to come to our service on 1/30 (Send home in folders)  
                                    Recess/Lunch–  (11:50-12:30)  
PBL – (12:30-1:45) – GRADES 4-8 – Dr Martin Luther King Jr.  Who? What? When? Where? Why?  How?  (What do you want to know?  Where did it lead you?  What did you learn?   What did you find most interesting?  How did God fit into Dr. Kings plan?)  
5/6 – Science (1:45-2:25)
Monday- On l/l, copy and answer questions pg. 51
HW- Why are heat vents and radiators located on or near the floors of homes?  
Thursday- Go over HW, Heat transfer wk sheet, Hand in  
HW-  Review vocabulary, Quiz Monday 1) thermal energy,  2) thermometer  3) conduction,  4) convection  5) temperature,  6) Heat  and 7) radiation
Friday- Awards Assembly