From the desk of Ms. Costanzo:  
– Gaming/Blogging and Craft clubs begin this week.    
–
If you have time on Thursday mornings or know of anyone looking for a great school for their children, stop by and tour the building.  You will see the extraordinary things the children are doing.  
–
Please send in nonperishable foods for Chapel. We are collecting breakfast foods this month but, you may send in any items you wish.  Anything will be appreciated.  Thank you and God Bless.  
-Stay informed by viewing my weekly Blog and Homework assignments on our website.  astorialutheranschool.com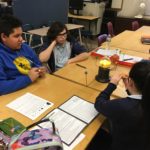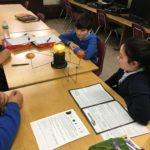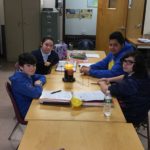 Ms. Costanzo                        Lessons for -3/4,-3/8 2019                       Week 25
  Reminders:
** Students are expected to be on time for class. Our first period begins at 8:30.
*** Students may wear Gym clothes and sneakers on gym and yoga days only, (Mondays and Wednesdays)  They must be in full uniform all other days.  
**** Music classes and choir classes are on Wednesdays, please remind your child to bring their recorder and song book to school.                            
8:20-8:30–                                                                                                                                                                      4thgrade Homeroom–  Attendance, Pledge and Devotions.
–
Vocabulary
-Vocabulary, Unit- 11, Review definitions, Test, Thursday  3/7  
4th-  Math- OA.4. –  (8:30-9:10)
Monday- Understanding Factors and Multiples, pgs. 207 notes and examples  
HW- pg. 208
Tuesday- Go over HW, do pgs. 209-210
HW-  wk sheet pgs. 103-104, Due Thursday  
Wednesday- Complete pgs. 209-210, go over
HW-  Complete wk sheet pgs. 103-104
Thursday-  Review lesson, board wk
HW- Define: Prime numbers-     Composite numbers-  Give an example of each
Friday- Go over HW, pgs. 211-212, together
6– Math– RP.3.-  (9:10-9:50)
Monday- Complete pg 202, Finding percents of a number, notes and examples pg. 203
HW- Wk book , (skinny) pgs. 99-100, Due Wednesday  
Tuesday- Do pg. 204, Hand in  
HW- Complete pgs. 99-100
Wednesday- HW questions, Problem solving using percents, pg. 205-206, go over  
HW-  Text pg. 207
Thursday-  Do 208, Go over 207-208 (Make corrections)  
HW- wk book pg. 101
Friday- Wk book pg. 102, Hand in
7- Science-   (9:50-10:30)
Monday- Chapter 6, Fighting Disease, pgs. 154-185. How does the body fight disease?  Why are some diseases contagious?  How are contagious diseases transmitted?  How do diseases affect the body?  
HW- Choose any disease.  Tell if it is contagious or not.  
Tuesday- Research:  Thesis statement-  The disease of your choice –  Copy criteria in N/B, Rubric
HW- Gather data – Due Friday, will work on and type in class
Thursday- Work on paper.
HW- Organize data and create a well written research paper
Friday-  Share findings and revise, will type on Tuesday in class  
8- Science – (10:30-11:10)
Monday- Solar system paintings/drawings/diagrams  
HW- Review the planets in order.  
Tuesday- Write planets in order from the closest to the Sun / Continue drawings q
HW-  Write about one thing you have learned about space an Earth's role in our solar system
Thursday- What have you learned?  What would you like to know more about?  Choose a Thesis topic
HW- Gather data on your topic, organize data , Paper needs, 1- Introduction- Restate and discuss your topic,  2- Tell about your findings,  3- Sum it up. Write a conclusion to your findings.  List resources.  (eg.  Text, website, news report, newspaper)  Where did you find your facts?  
Friday- Continue researching Thesis question – will type in class on Monday  
4- Religion –  (11:10-11:50)
Monday- What does it mean to be a Christian?  How are Christians unique?  How do you show that you are a Christian?  (IN N/B) Class discussion  
Tuesday- Word of the week and memory verse- Bible reading, Luke    
HW-  Chapel tomorrow
Wednesday-  Chapel @ 8:40 – All are Welcome
Thursday- Bible reading, Lent- What is Lent?  Signs and symbols of Lent
Friday- Create a Lenten banner, (Symbols of Christ)    
                                    Recess/Lunch–  (11:50-12:30)  
PBL – (12:30-1:45) – GRADES 4-8 – PBL – Feb and March-  Why they became President of the United States of America. –           I)  Choose 2 presidents from any era and research their lives, why they ran for president; their political party; how long were they in office? 1 term, 2 terms or more; their accomplishments while president; before becoming president and after; their campaign slogans; speeches; news articles; Where are they now or how did they die?  What do people say about them? –  II) Compare and Contrast-   How are the 2 alike, how are different?  Which candidate would you vote for if they were your choices and why?       III) Reflection- Did you enjoy this assignment?  What have you learned that you didn't know already?  What else would you like to find out?  Duration :  (Ongoing, this is the first part- 2 weeks) – Choose which of your two presidents you would vote for. – Compare and contrast, look up past debates and news reports/articles.  Deadline: 3/8- Presentations
5/6 – Science (1:45-2:25)
Monday- Hurricane pamphlets,  Make a pamphlet telling people about Hurricanes and how dangerous they can be.  Look up information that supports your data.  use illustrations and text.  Cover all sides.  
HW-  Gather data for your pamphlet
Thursday- Work on and complete pamphlet Due tomorrow
HW-  Complete CW      
Friday- Present pamphlets