Math time in grades 4 and 6.  Thinking critically and collaborating to solve the problem. 😊
soproud of them.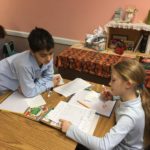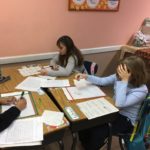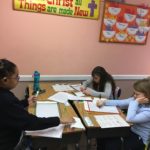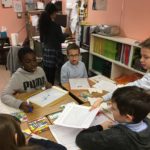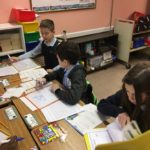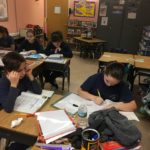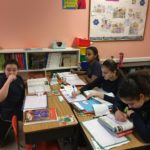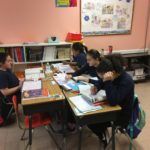 From the desk of Ms. Costanzo:  
–
If you have time on Thursday mornings or know of anyone looking for a great school for their children, stop by and tour the building.  You will see the extraordinary things the children are doing.  
–
Please send in nonperishable foods for Chapel. We are collecting breakfast foods this month but, you may send in any items you wish.  Anything will be appreciated.  Thank you and God Bless.
–
Mid Trimester Reports were sent home in your child
'
s folder this Wednesday. Please review it with your child and sign and return if you have not already done so.  Thank you  
–
Assembly has been moved to Thursdays.  Our next Assembly will take place on Thursday, 2/14 @ 1:45 in the Church. Hope you can attend. Your children get to shine during that time and present their accomplishments.  
-Stay informed by viewing my weekly Blog and Homework assignments on our website.  astorialutheranschool.com  
          Ms. Costanzo                        Lessons for -2/4,-2/8 2019                       Week 22
  Reminders:
** Students are expected to be on time for class. Our first period begins at 8:30.
*** Students may wear Gym clothes and sneakers on gym and yoga days only, (Mondays and Wednesdays)  They must be in full uniform all other days.  
**** Music classes and choir classes are on Wednesdays, please remind your child to bring their recorder and song book to school.                            
8:20-8:30–                                                                                                                                                                      4thgrade Homeroom–  Attendance, Pledge and Devotions.
–
Vocabulary
-Vocabulary, Unit- 10, Spelling Test, Thursday    
4th-  Math- NBT.6. –  (8:30-9:10)
Monday- Finding Quotients using compatible numbers, Rules of divisibility and examples pg. 153-154
HW- Memorize rules for 1,2,3,4,5,6 and 9
Tuesday- Complete pg. 154  
HW-  wk sheet pgs. 77-78, Due Thursday- do 1 pg. each night
Wednesday- Problem solving using compatible numbers. pg. 155
HW-  Wk sheet pgs. 156, Test Tuesday 2/12
Thursday-  Dividing using Distributive property, pg. 159
HW- pg. complete 159 if needed, do 160
Friday- Go over HW, Do wk sheet pgs. 79-80, Hand in Test Tuesday on Division, Chapter4, lessons 1-6
6– Math– RP.3.-  (9:10-9:50)
Monday- Chapter review, pgs. 167-168
HW- Complete CW, review lessons, Test tomorrow, Chapter 4, lessons 1-5 – Ratios
Tuesday- Test – 6.RP.1-4,  
HW- Read and try pg. 169, Rates and Unit Rates  
Wednesday- Go over HW, do 170 together.  Do pgs. 171-172
HW-  Complete pgs. 83-84
Thursday-  Collect HW, Using Unit Rates, pgs. 175, go over  
HW- Wk book pg. 85
Friday- Go over HW, do pg. 176 together , wk book pg. 86, Hand in with 85  
7- Science-   (9:50-10:30)
Monday- Science and History, pgs. 122-123 (pick a year from a cup)  Research the scientist- Rubric – 4 paragraphs, I) Scientist and their background, Who are they?  When were they born? Are they still alive?  Where did they come from? Where did they go to school?    II) What were their accomplishments to science?  III) Are there more than one accomplishments?  If so, what?   IV) Conclusion, How has this advanced medicine today?  Due Tuesday, 2/5
HW- Complete Research paper, due tomorrow
Tuesday- Type and Hand in Research paper
Thursday- Chapter 4-4, Cardiovascular Health, read pgs. 120-124  
HW- Complete reading or reread
Friday-  On l/l, questions (1-4) pg. 124- you may look up data for #4. Hand in
8- Science – (10:30-11:10)
Monday- Unbearable conditions, pgs. 656-657.  Would you want to explore Antarctica?  What would you want to explore if you did?  Write a hypothesis, theses, topic question. How long would you stay? What would you bring?  
HW- none
Tuesday-  Earth, the planet in Space as part of a bigger picture,  How does Earth move in Space?  What causes the cycles of seasons? pgs. 660-665- I) define key terms- Answer questions in N/B  
HW-  Review key terms, Quiz Friday    
Thursday- pg. 660 activity- Read and discuss pgs. 660-665
HW- Complete reading pgs. 660-665, vocabulary Quiz tomorrow
Friday- Vocabulary Quiz,  Record times of sunrise and sunset, What do you notice?  Why do you think this happens?  What is an Equinox? Where do Equinox occur?     What is the Winter Solstice?  What is the Summer Solstice?  (pg. 663)  
4- Religion –  (11:10-11:50)
Monday- Gospel reading, Luke – Miracles of Jesus,  How did Jesus serve the people?  Why did people come from all over to see Jesus?  If Jesus were here today, would you travel to see him?  Why or why not?  (Try to be honest)  
Tuesday- Word of the week and memory verse- Why did Jesus choose disciples?  What would you have done if Jesus asked you to leave everything and follow him?    
HW-  Chapel tomorrow
Wednesday-  Chapel @ 8:40 – All are Welcome
Thursday- Posters Contest- "Be Kind To One Another"  – (Prize will be candy and No Math HW Tonight coupon)
Friday- Continue yesterday's assignment.   Present if time    
                                    Recess/Lunch–  (11:50-12:30)  
PBL – (12:30-1:45) – GRADES 4-8 – Complete presentations on Dr. Martin Luther King Jr.
– Begin Presidents PBL –  Why they became President of the United States of America. –           I)  Choose 2 presidents from any era and research their lives, why they ran for president; their political party; how long were they in office? 1 term, 2 terms or more; their accomplishments while president; before becoming president and after; their campaign slogans; speeches; news articles; Where are they now or how did they die?  What do people say about them? –  II) Compare and Contrast-   How are the 2 alike, how are different?  Which candidate would you vote for if they were your choices and why?       III) Reflection- Did you enjoy this assignment?  What have you learned that you didn't know already?  What else would you like to find out?  Duration :  (Ongoing, this is the first part- 2 weeks)
5/6 – Science (1:45-2:25)
Monday- Read pgs. 83-91, aloud and discuss.  Storms-
HW-  Complete reading, 83-91
Thursday- Storms, Natural Phenomenons pgs. 86-87, choose a date, do the research. Tell Who? What? When? Where? Why? and How? (Include the snowstorm of 1888
HW-  Complete research and answers      
Friday- Create a cover for your research topic.  Present what you learned