January 28,- February 1, 2019             
From the desk of Ms. Costanzo:  
–
School Spirit Week was enjoyed by all.  We had a great week and the students did an amazing job sharing their enthusiasm during our closing assembly.  
–
If you have time on Thursday mornings or know of anyone looking for a great school for their children, stop by and tour the building.  You will see the extraordinary things the children are doing.  
–
Please send in nonperishable foods for Chapel. We are collecting breakfast foods this month but, you may send in any items you wish.  Anything will be appreciated.  Thank you and God Bless.
–
Mid Trimester Reports will be sent home in your child
'
s folder this Wednesday or Thursday. Please review it with your child and sign and return.  
-Stay informed by viewing my weekly Blog and Homework assignments on our website.  astorialutheranschool.com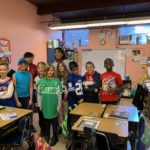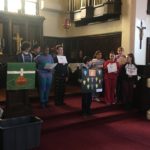 Ms. Costanzo                        Lessons for -1/28-2/1, 2019                       Week 21
  Reminders:
** Students are expected to be on time for class. Our first period begins at 8:30.
*** Students may wear Gym clothes and sneakers on gym and yoga days only, (Mondays and Wednesdays)  They must be in full uniform all other days.  
**** Music classes and choir classes are on Wednesdays, please remind your child to bring their recorder and song book to school.                            
8:20-8:30–                                                                                                                                                                      4thgrade Homeroom–  Attendance, Pledge and Devotions.
–
Vocabulary
-Vocabulary, Unit- 9, Vocabulary Test  
4th-  Math- OA.3. –  (8:30-9:10)
Monday- Finding Quotients with remainders and checking – pgs. 146 in N/B -147,
HW- Text pg. 148
Tuesday- Go over HW, Do wk book pgs. 73-74  
HW-  Complete wk sheet pgs. 73-74
Wednesday- NBT.6. – Division patterns, notes and examples, pg. 149
HW-  Wk sheet pgs. 150
Thursday-  Go over HW, do pg. 151
HW- pg. 152
Friday- wk sheet pgs. 75-76
6– Math– RP.3.-  (9:10-9:50)
Monday- Equivalent Ratios, pgs. 157-158, Hand in
HW- review lessons, (skinny) wk book pgs. 77-78
Tuesday- Go over HW, Using Ratios when solving problems, pgs. 160 together, pg. 161 on own
HW- pg. 162, review ratios  
Wednesday- Collect pgs. 161-162, do wk book pgs. 79-80  
HW-  Complete pgs. 79-80
Thursday-  Collect HW, Using Equivalent Ratios without tables, pgs. 163-164  
HW- Do text, (Fat) pg.165
Friday- Go over HW, do pg. 166, Hand in – Quiz Friday on pgs. 147-166 Monday Review Ratios    
7- Science-   (9:50-10:30)
Monday- Blood and Lymph, pgs. 113-118, read together and discuss
HW- Reread pgs, 113-118
Tuesday- Questions, 1) Name the 4 components that make up our blood.   2) Explain how each component in your blood works in the body.    3) What are the different blood types?   4) Do you know yours?  If so what is it? (ask your parents)   5) Which blood types are safe if your blood type is  A –  B –  AB –  or O –    HAND IN  
HW-  Find out your blood type, ask parents  
Thursday- Questions 3-4, pg. 118 (notes and discussion)  
HW- none
Friday-  Science and History, pgs. 122-123 (pick a year from a cup)  Research the scientist- Rubric – 4 paragraphs, I) Scientist and their background, Who are they?  When were they born? Are they still alive?  Where did they come from? Where did they go to school?    II) What were their accomplishments to science?  III) Are there more than one accomplishments?  If so, what?   IV) Conclusion, How has this advanced medicine today?  Due Tuesday, 2/5
8- Science – (10:30-11:10)
Monday- Earth and Space, – Interdisciplinary Exploration, Antarctica pgs. 652-653, read and discuss.  Do activity, work together to create one time-line  
HW- review lessons
Tuesday-  Complete activity, Time-line pg. 653 Antarctica, pg. 654, do activity in N/B
HW-  Complete activity pg. 654  
Thursday- Go over HW, pg. 654
HW- Notice the time of sunset. Record your results – What have you noticed when comparing it to last month?    
Friday- Discuss findings,  Read and do activity on pg. 655  
4- Religion –  (11:10-11:50)
Monday- Gospel reading, Luke – The Beatitudes
Tuesday- Word of the week and memory verse- Continue Beatitudes  
HW-  Chapel tomorrow
Wednesday-  Chapel @ 8:40 – All are Welcome
Thursday- Posters- What does Jesus expect from you?  How can you show you're a follower of Jesus?  What is something you admire about Jesus?  (What does admire mean? use it in your response)   Draw a picture that shows you as a follower of Jesus.   Extra info:  What's another name for Jesus?  
Friday- Continue yesterday's assignment.   Present if time  
                                    Recess/Lunch–  (11:50-12:30)  
PBL – (12:30-1:45) – GRADES 4-8 – Complete presentations on Dr. Martin Luther King Jr.
– Begin Presidents PBL –  Why they became President of the United States of America. –           I)  Choosing 2 presidents from any era and researching their lives, why the ran for president, their political party, how long? 1 term or 2, Their accomplishments while president, their campaign slogans, speeches, news articles.  Where are they now or had did they die?  What do people say about them?  II) How are the 2 alike, how are different?  Which candidate would you vote for if they were your choices and why?  III) Reflection, Did you enjoy this assignment?  What have you learned that you didn't know already?  What else would you like to find out?  
5/6 – Science (1:45-2:25)
Monday- Science Quiz Game
HW-  What is a Hurricane?  Where and when do hurricanes form?  Why are hurricanes dangerous?  
Thursday- Go over HW, view videos on Hurricanes, What fuels a hurricane?  Why do hurricanes die down once they hit land?  
HW-  Why do meteorologists categorize hurricanes using 1 through 5.  What do the numbers mean?    
Friday- Go over HW, Air Masses, pgs. 76-82, read aloud and discuss