A great group of kids! 💕
Bless then all.  🙏 😊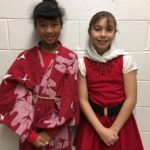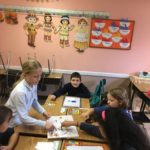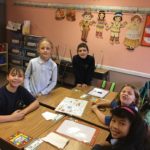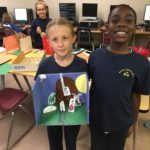 Ms. Costanzo's Lesson plans for …               November 26, through November 30, 2018            
From the desk of Ms. Costanzo:  
– Hope you enjoyed the four day weekend and had a blended Thanksgiving.
– Please send in nonperishable foods for Chapel. We are collecting breakfast foods this month but, you may send in any items you wish.  Anything will be appreciated.  Thank you and God Bless.    
– Parent/Teacher Conferences will take place on Friday 12/7.  An appointment has been sent home and most were returned. You will receive a confirmation sheet with the time.  Students will dismiss at 11:00 and I will begin conferences at 12.  I will also be available to see some of you before school begins if needed.  
-Stay informed by viewing my weekly Blog and Homework assignments on our website.  astorialutheranschool.com  
Ms. Costanzo                           Lessons for 11/26-11/30,2018                       Week 13
  Reminders:
** Students are expected to be on time for class. Our first period begins at 8:30.
*** Students may wear Gym clothes and sneakers on gym and yoga days only, (Mondays and Wednesdays)  They must be in full uniform all other days.  
**** Music classes and choir classes are on Wednesdays, please remind your child to bring their recorder and song book to school.                            
8:20-8:30–                                                                                                                                                                      4thgrade Homeroom–  Attendance, Pledge and Devotions.
–
Lesson 6 vocabulary
 Complete Lesson 6, Test, Thursday 11/29 on Unit 6
4th-  Math- NBT.5. –  (8:30-9:10)
Monday- Multiplying and regrouping, pgs. 89-90
HW-wk sheet pgs. 43-44  
Tuesday- Understanding the Order of Operations, notes and examples- Word Problems- pgs. 91-92
HW- text pg. 93, (do not do pg. 94)    
Wednesday- Go over pg. 93, do 94- (grade)
HW-  wk sheet pgs. 45-46, do Friday  
Thursday-  Chapter review, pg.95
HW- Complete wk sheet pgs. 45-46
Friday- Do pgs. 96-97  
6– Math– NS.4-  (9:10-9:50)
Monday- Go over HW, pgs. 43-44  
HW- Text,(Fat)  pg. 91, (only)    
Tuesday-  Do text pgs. 92-93
HW- Use the glossary and define words on pg. 96  
Wednesday- Do pg. 94, Hand in with 91-93  
HW-  Text pg. 95, and Math detective  
Thursday-  Go over HW, do pg. 96, go over  
HW- Review new words
Friday- Integers, opposites and Absolute value, 100-103, (wk book pgs. 49-56, Due Friday)
7- Science-   (9:50-10:30)
Monday- SOS- All about the Sun booklet-  Display 1 question and response on each page.  What are some advantages and disadvantages of the sun?  Why should you protect your skin from the sun?  What are ultraviolet rays and what effects do they have to life on Earth?  
HW- Complete booklet and research.  Due Thursday.
Tuesday- Present booklet.  
HW-  Research questions, answer in N/B- Chapter 3-1   1) What are the six nutrients needed by the body?  Why is water the most important nutrient needed by the body?  
Thursday-  Go over HW, Activity, and read pgs. 68-75, Chapter 3-1  
HW- Complete reading pgs. 68-75
Friday- Reading nutrition labels, what are calories?  
8- Science – (10:30-11:10)
Monday- Go over vocabulary, Chapter 3-1, Properties of minerals, pgs. 66-74, read and discuss
HW-  Review key terms, (vocabulary)  
Tuesday- Mineral booklets, "Properties of Minerals"  1 page for each property, use text, computers and other resources for data  
HW-  Gather data for booklet  
Thursday-  Complete booklet, add illustrations
HW- Complete booklet if needed
Friday- Hand in booklet
4- Religion –  (11:10-11:50)
Monday- Prophet poster –  Review Church seasons, Planner
Tuesday-  Discuss Advent and what it means. Advent calendars and wreath
HW – Chapel tomorrow, bring an offering. Also collecting cereal and other nonperishable goods this month.  
Wednesday-  Chapel @ 8:40 – All are Welcome
Thursday-  Complete calendar for Advent,
HW- none
Friday- Bible reading, Luke's gospel Introduction
Advent begins Sunday
                             Recess/Lunch–  (11:50-12:30)  
PBL – (12:30-1:45) – GRADES 4-8 – From November to beyond!   Exploring Why?  When? What? Wrapping up this week.  
5/6 – Science (1:45-2:25)
Monday- Chapter 1, Review, pg. 39, (18-25)
HW-  Complete pg. 39, (18-25) Due Thursday
Thursday-  Collect pg. 39
HW- none
Friday- Energy in the Atmosphere, notes, define key terms-  1) electromagnetic waves               2) radiation   3) ultraviolet radiation,   4)  infrared radiation   5) scattering   6) greenhouse effect  Quiz Thursday