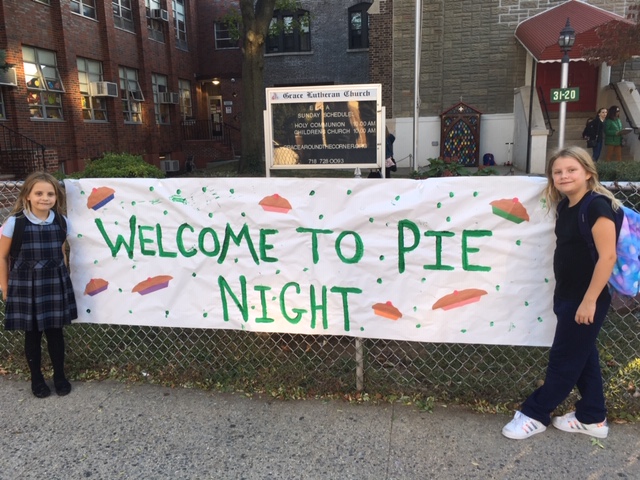 Weekly Bulletin
9/23/19
Thank you to all who attended Parent Information Evening!
'PIE' night was a great way for you to get a better understanding of how the children learn and interact with each other in school. I hope you enjoyed your pies!
This year's theme…'We are a small school making a BIG difference!' reflects our efforts to provide a quality, faith-based education that is inclusive and meets the needs of all of our diverse learners.
OCTOBERFESTIVAL: Saturday, October 19th, from Noon-5:00 p.m. A joint celebration of Grace Church and Astoria Lutheran School. This year's event will be in the fashion of a street fair, with each class/grade/organization hosting a different booth, with food, drink, music, games, and fun. There will be special attractions for children.
FLEA MARKET TO BENEFIT ASTORIA LUTHERAN SCHOOL: on Sunday, September 29th from 1:00-4:00 p.m. Please contact Louisa Natale in the school office (718) 721-4313 for more information.
CONFIRMATION CLASS: resumes on Wednesday, October 2nd at 2:45 p.m. in the Blue Room. The students will be contacted by Pastor James soon.
NEW STUDENT COUNCIL: Congratulations to: Abigail Montiel, President; Ella Roady, Vice President; Samantha Natale, Secretary; Amber Morgan, Financial Director; Anylah Barrett, Treasurer; Dylan Thomas, Safety Patrol. Thank you to Ms. Costanzo, Advisor.
STUDENT COUNCIL BAKE SALE in the Lunch Room Wednesday through Friday.
"DRESS DOWN DAY" is Friday, the 27th. I ask that children wear sensible jeans/casual clothes.
CLUBS begin in October. Please submit all of your lunch and club forms no later than Friday, the 27th. Please put the form and money in an envelope with the exact amount in cash and mark it with your child's name and class on the outside of the envelope. This year we will be having a morning school club! Look for details.
ADULT FLU SHOTS will be available on Oct 2nd 8 a.m. in the Blue Room. Please bring your insurance card.
MISSION DONATIONS – During September and October we are collecting money and food to aid the victims of recent hurricanes. Each month we will have a specific food donation. This month we are asking for donations of granola bars or cereal. Grade school children can bring their donations to chapel on Wednesdays.
See you at the front gate!
Mr. A